Spending most of her free time during the epidemic season to "gardening", Ms. Ngoc Kim's tiny balcony has turned into a vegetable garden with a variety of clean vegetables.
The vegetable garden was born during the epidemic season
Taking advantage of the epidemic break, limiting going to crowded places, Do Ngoc Kim (currently living and working in Saigon) took advantage of renovating her balcony into a beautiful small vegetable garden, providing vegetables for her family. Moreover, she and her husband have an interesting and attractive "play" place. .
Ms. Kim shared that in early 2021, she and her husband bought a house in Saigon, began to renovate the 1st floor balcony with 3m2 to grow vegetables, the 2nd floor balcony also 3m2 to grow fruit trees.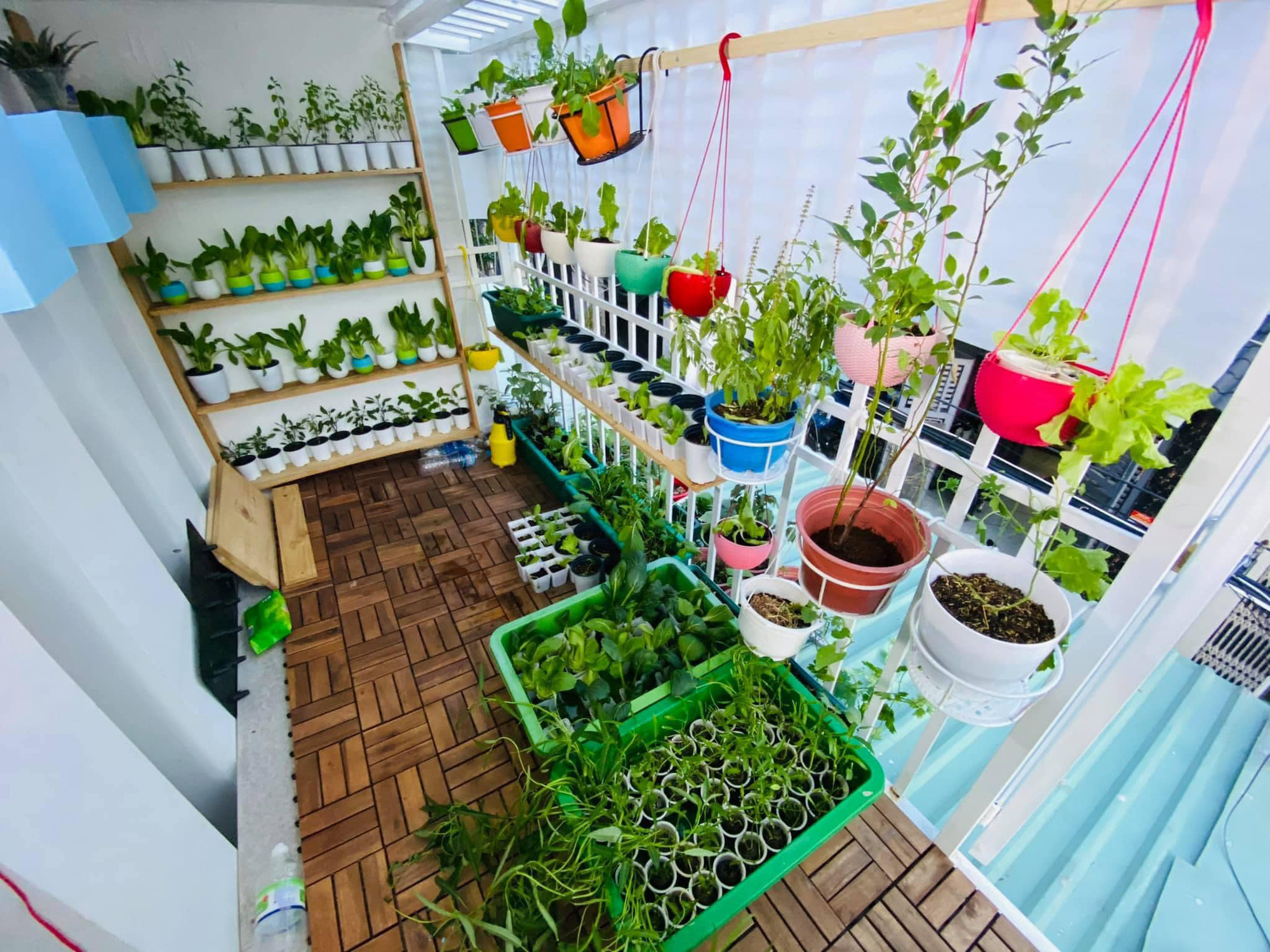 The small balcony space is very cleverly and beautifully arranged by Ms.
However, her husband does not like to plant trees, because every time she grows a tree, she becomes addicted to playing with the tree all day long and forgets to eat, because sometimes she grows it until early morning to sow the seeds and then plant them in pots. 
"Despite her husband's objections, he silently every time she was sleeping, sneaked out to water the plants early in the morning and even built wooden shelves for her to grow vegetables. Having a "dream" vegetable garden like the present, partly It's also thanks to my husband," Kim said with a smile.
Although it has only been planted for a few months, up to now, Kim's balcony vegetable garden has been covered with all kinds of vegetables, from leafy vegetables, spices to fruit trees.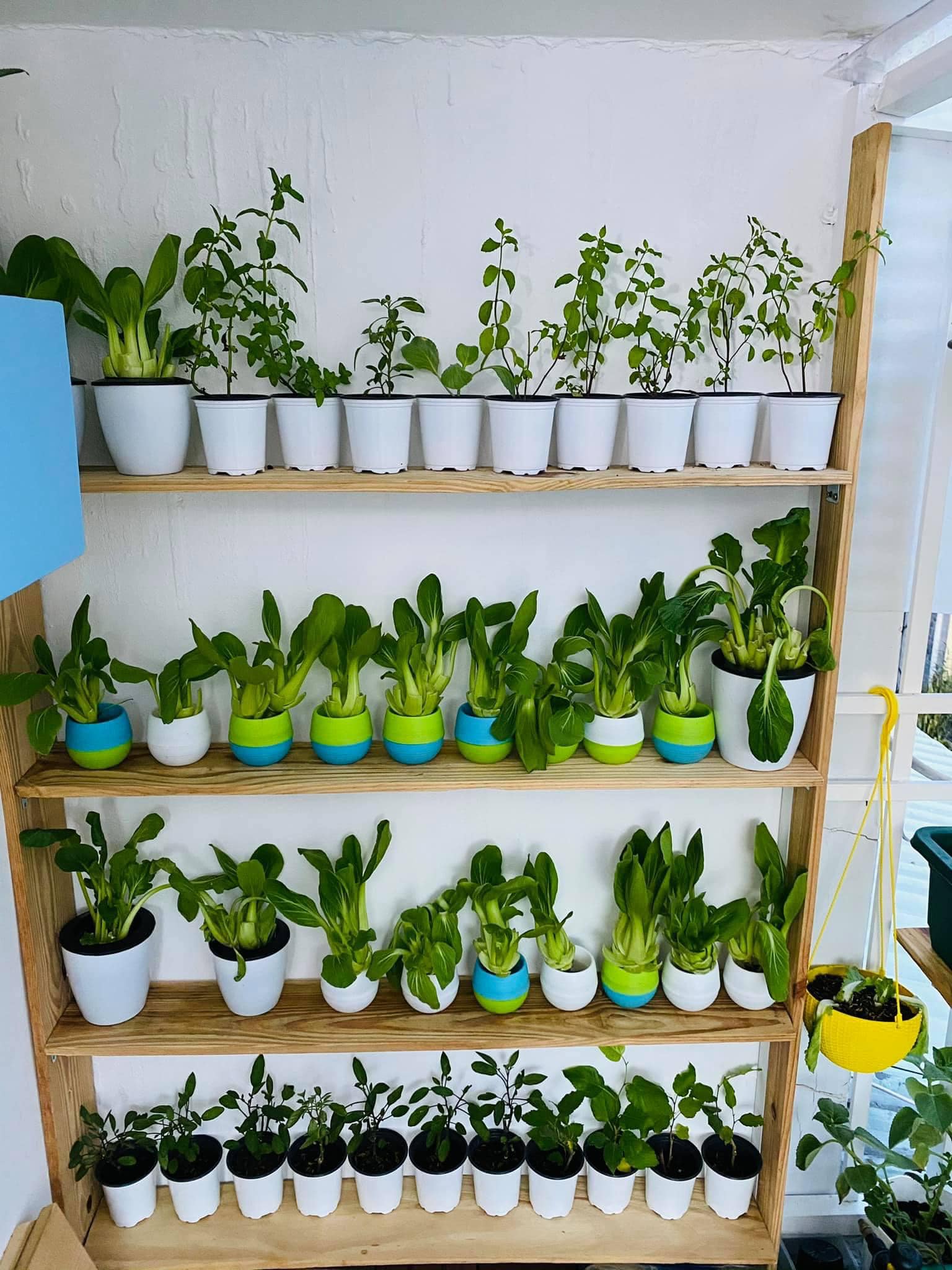 Kim's husband cleverly designed a wooden shelf for her to place trees.
For Ms. Kim, growing vegetables is a way to keep calm and balance emotions for herself. Also from farming, she learned to appreciate life. Every time I go out to see the garden, water the plants, I forget how much fatigue I have, I feel more relaxed and love life.
In particular, Saigon is in stressful epidemic days, the vegetable garden is a place to help Kim and her husband "cope" through the days of erratic and inadequate food sources. 
"Perhaps, after this epidemic season, her husband will not object to her growing vegetables anymore," Kim smiled happily.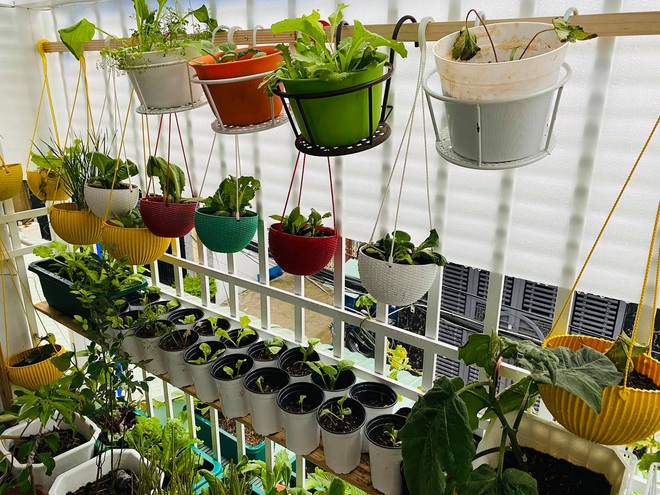 Thanks to the scientific arrangement, Kim can put dozens of pots of vegetables on the tiny balcony.
Experience creating a vegetable garden in a small balcony
Ms. Kim said that creating a balcony vegetable garden faced many difficulties, so she had to learn the characteristics of each tree and the daily weather situation to arrange and arrange the appropriate pots, avoiding the lack of or excess sunlight or excessive sunlight. waterlogging due to rain…
The process of mixing the soil is an important factor for good plant growth. Ms. Kim often mixes ash, rice husk, coconut fiber, and meat soil together to plant trees.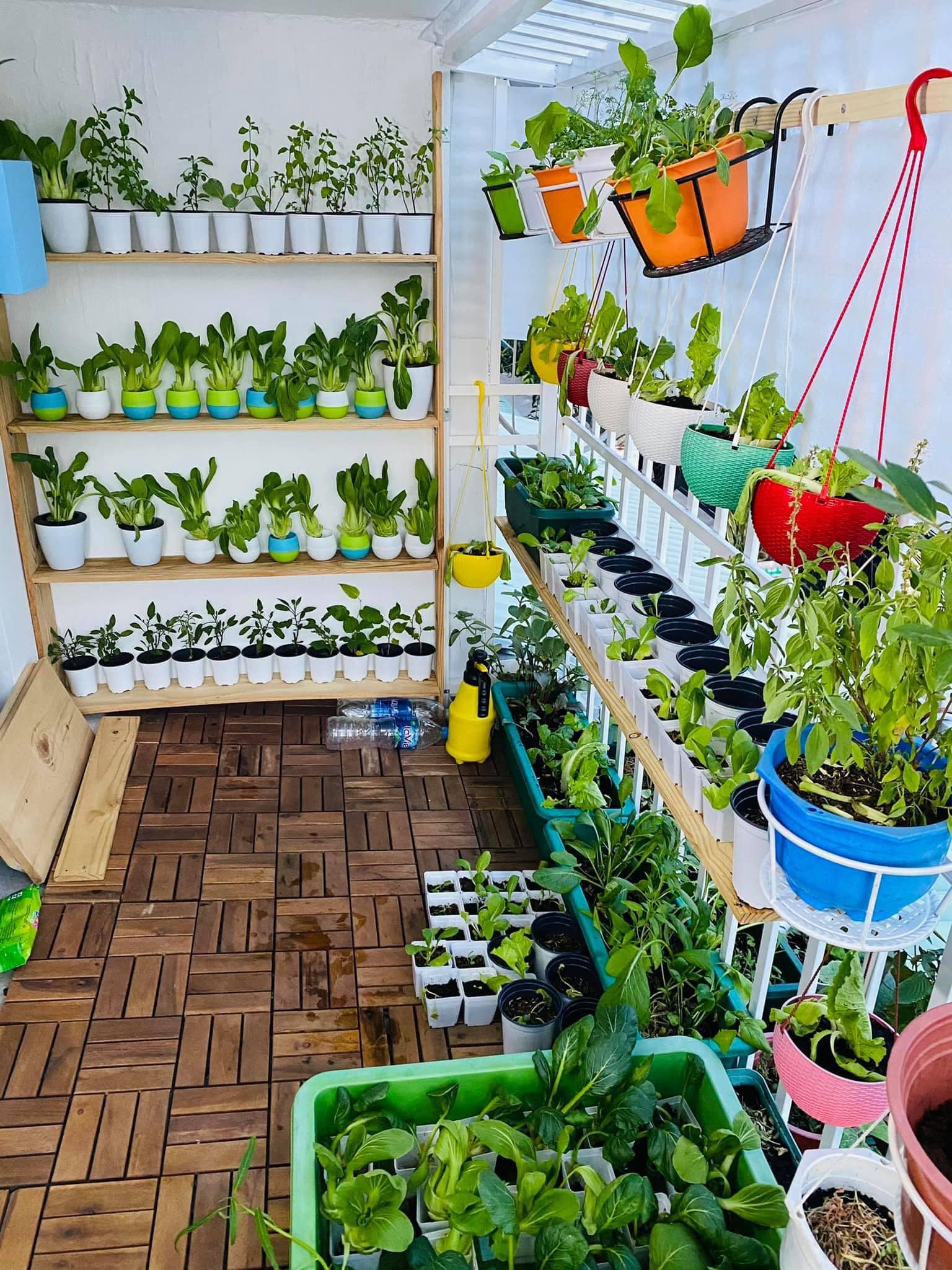 The "green" balcony is very beautiful.
Vegetables add organic fish protein to make vegetables grow fast and stout. She also often uses kitchen waste as fertilizer for plants, or used chicken eggshells to spread on the soil.
Because of the traditional method of growing vegetables, saying no to the use of drugs and chemical fertilizers, Ms. Kim regularly monitors and observes the development of vegetables and fruits in the garden.
If the garden has insects, Ms. Kim catches it by hand or mixes it with a solution of chili garlic juice or dishwashing liquid to spray the plants.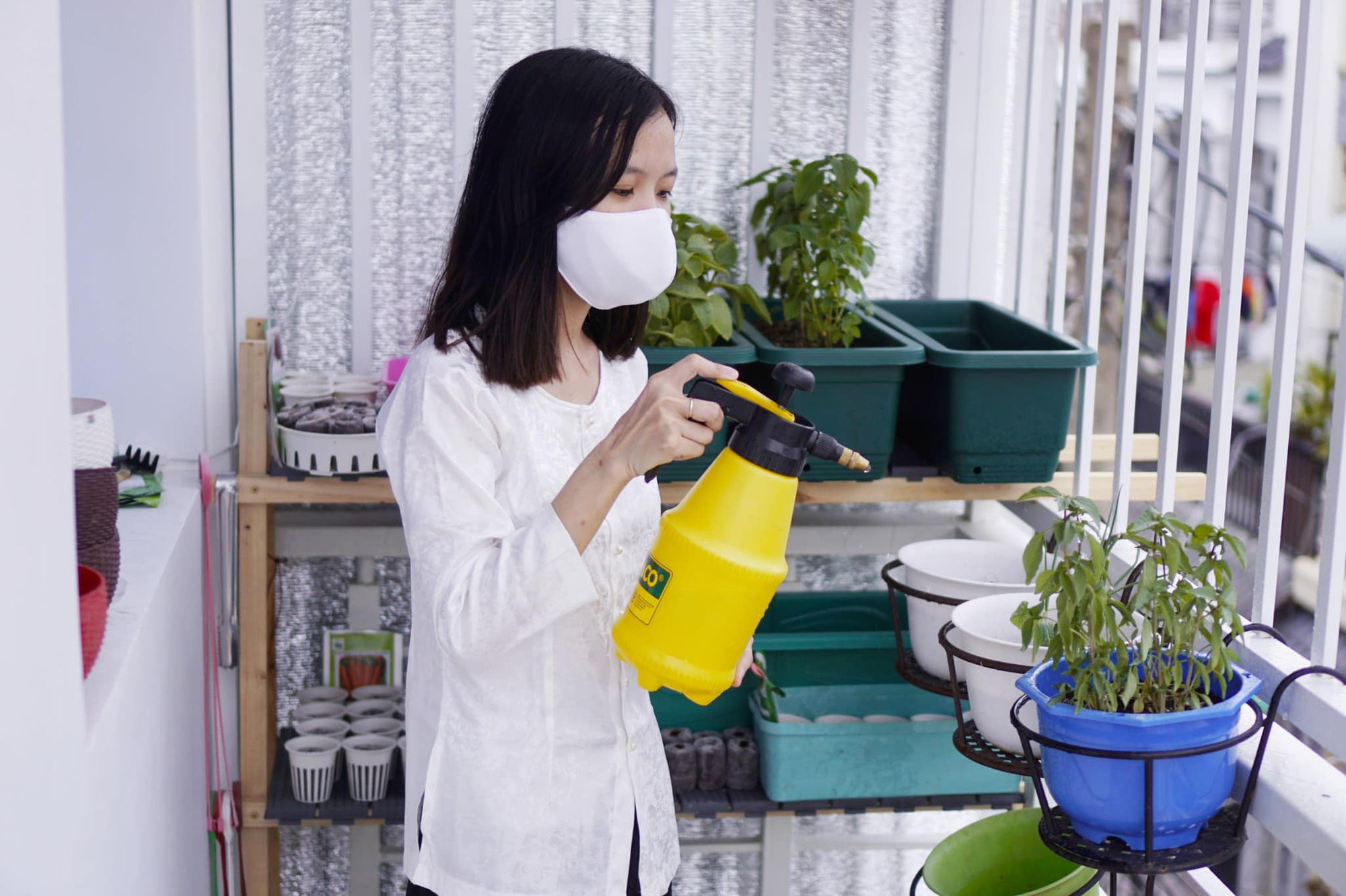 Kim loves her modest balcony because here, the whole family has more clean food sources, more joy in taking care of plants every day.
See more beautiful vegetable pots in Kim's house: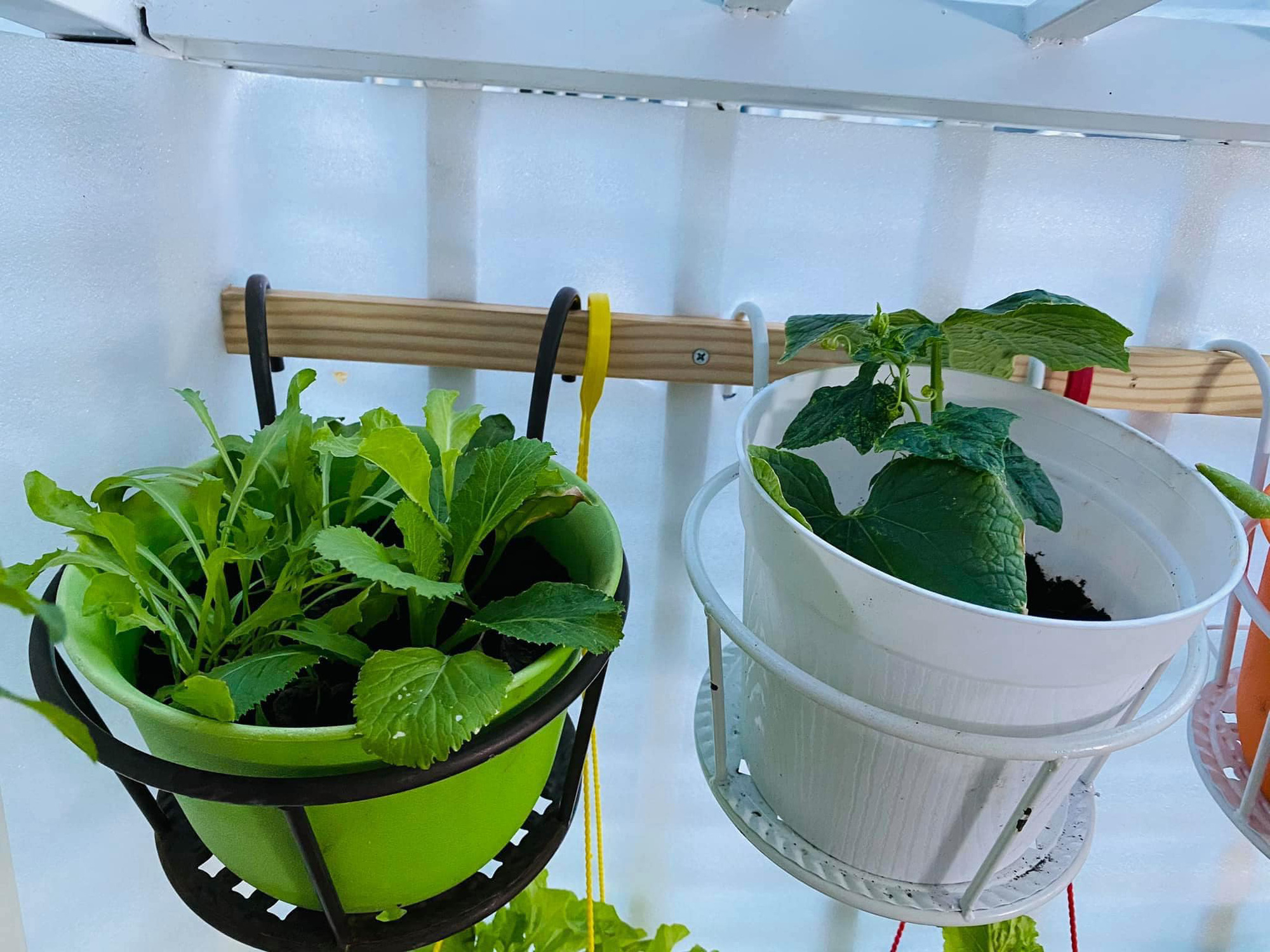 The balcony is small, so she uses hanging pots to grow vegetables.
Discarded milk tea bottles and plastic coffee cups are stored, recycled and used as plant pots.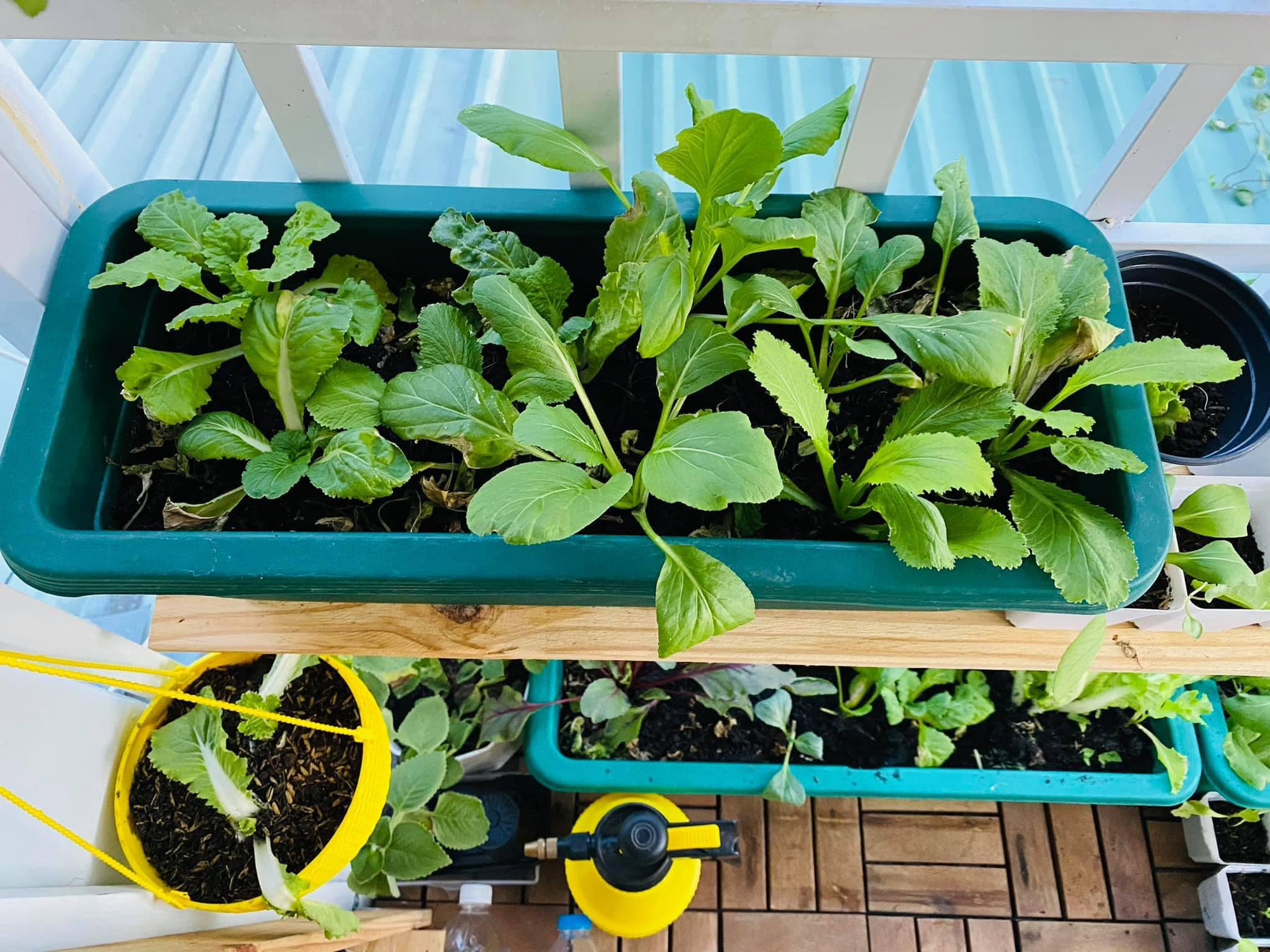 She is secure about the clean vegetables she grows.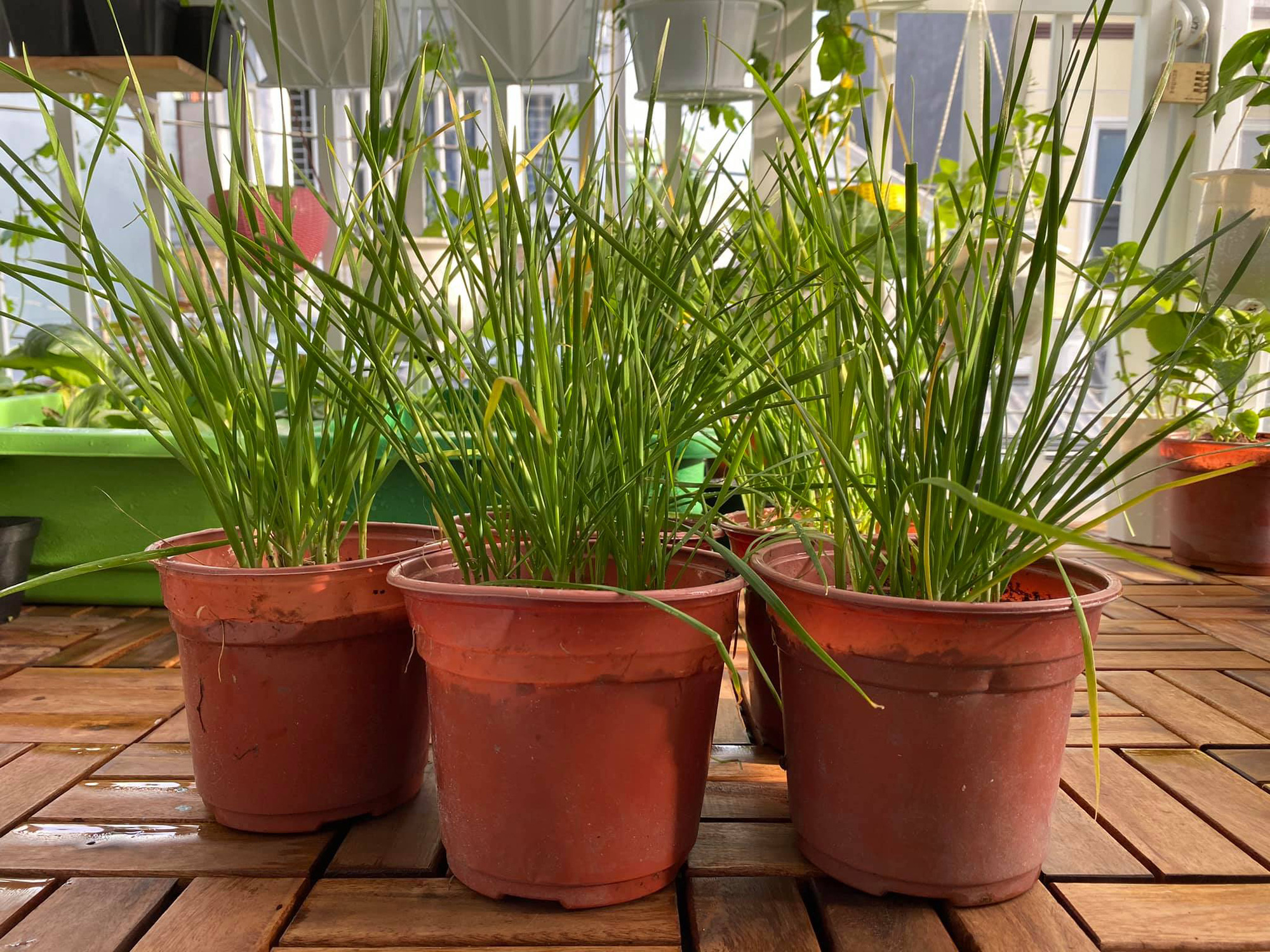 Thanks to the vegetable garden, her family's meals during the epidemic season still have a variety of foods and are full of nutrients.
2nd floor balcony. I grow fruit trees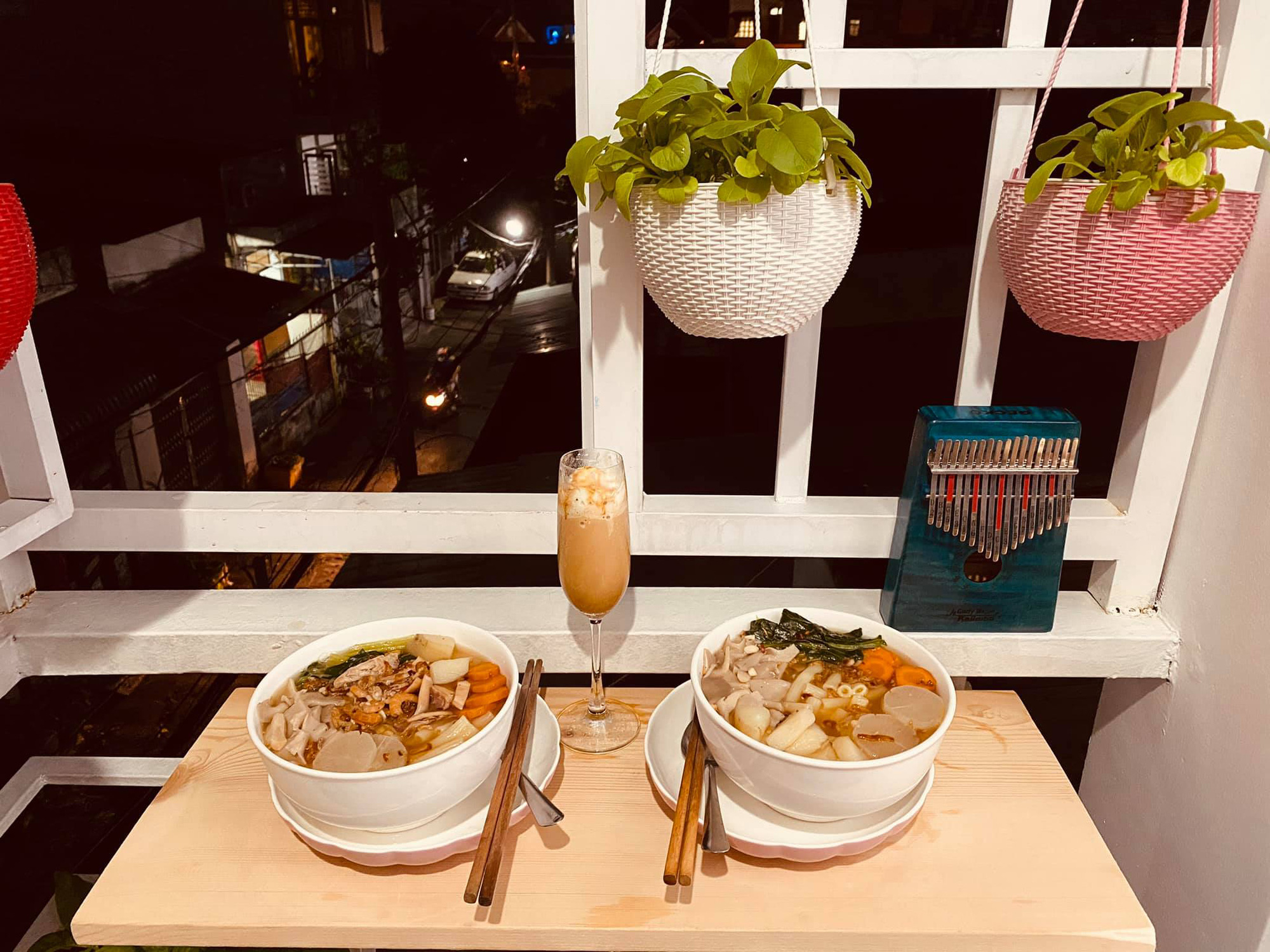 The balcony also has a set of tables and chairs so that the couple can have dinner while watching the trees.