By making use of discarded items, Ms. Nhai immediately had a clean green vegetable garden on the terrace that was both beautiful and economical.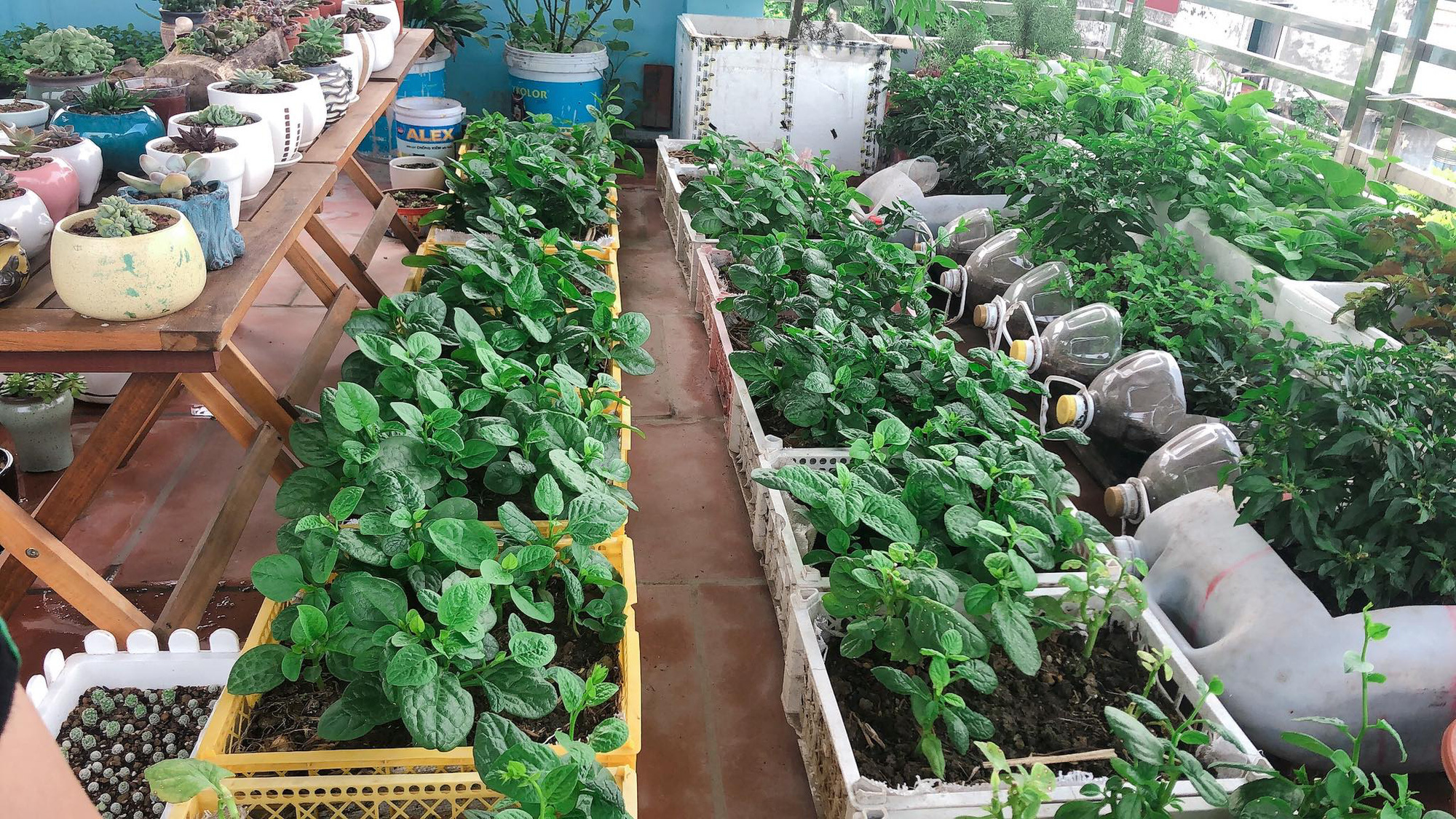 Ms. Jasmine mainly uses recycled materials such as fruit containers and plastic bottles to plant trees on the terrace.
Grow clean vegetables from recycled items to protect the environment
With the desire to do small work to protect the environment while creating a green space and a safe source of clean vegetables for daily meals, Ms. Ngo Thi Nhai (living in Bac Ninh) took advantage of the family's discarded items. , or going out on the street to see anyone throwing away any bottles or jars, she also asked to come back to plant trees.
From coca bottles, to 5 liter cooking oil bottles, paint cans, dishwashing liquid bottles, tires, plastic containers, containers, milk tea bottles… have been transformed into unique and impressive vegetable growing tools by her. statue. And just like that, dozens of vegetables grow green on the 30m2 terrace on the 3rd floor.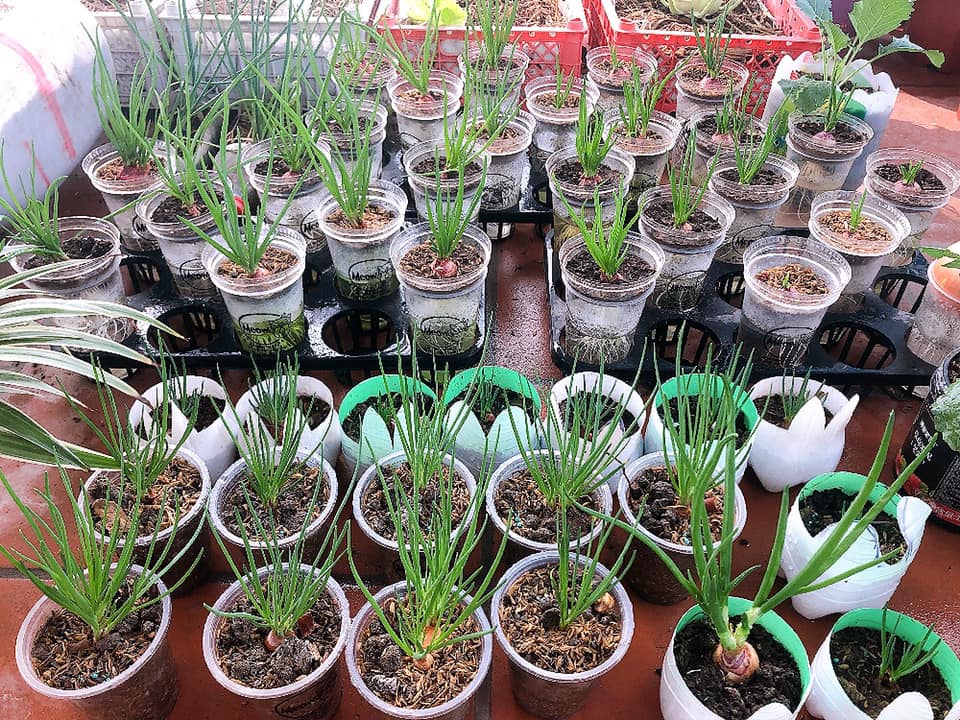 She planted green onions in the discarded milk tea cups.
Sharing about the idea of ​​​​recycling waste to grow vegetables, Ms. Jasmine said that because she had worked for 3 years in Japan, in her country, she had learned a lot of experience as well as raised awareness about environmental Protection.
In Japan, there are not many trash cans because people bring their own bags to put garbage, take it home, even when taking pets for a walk.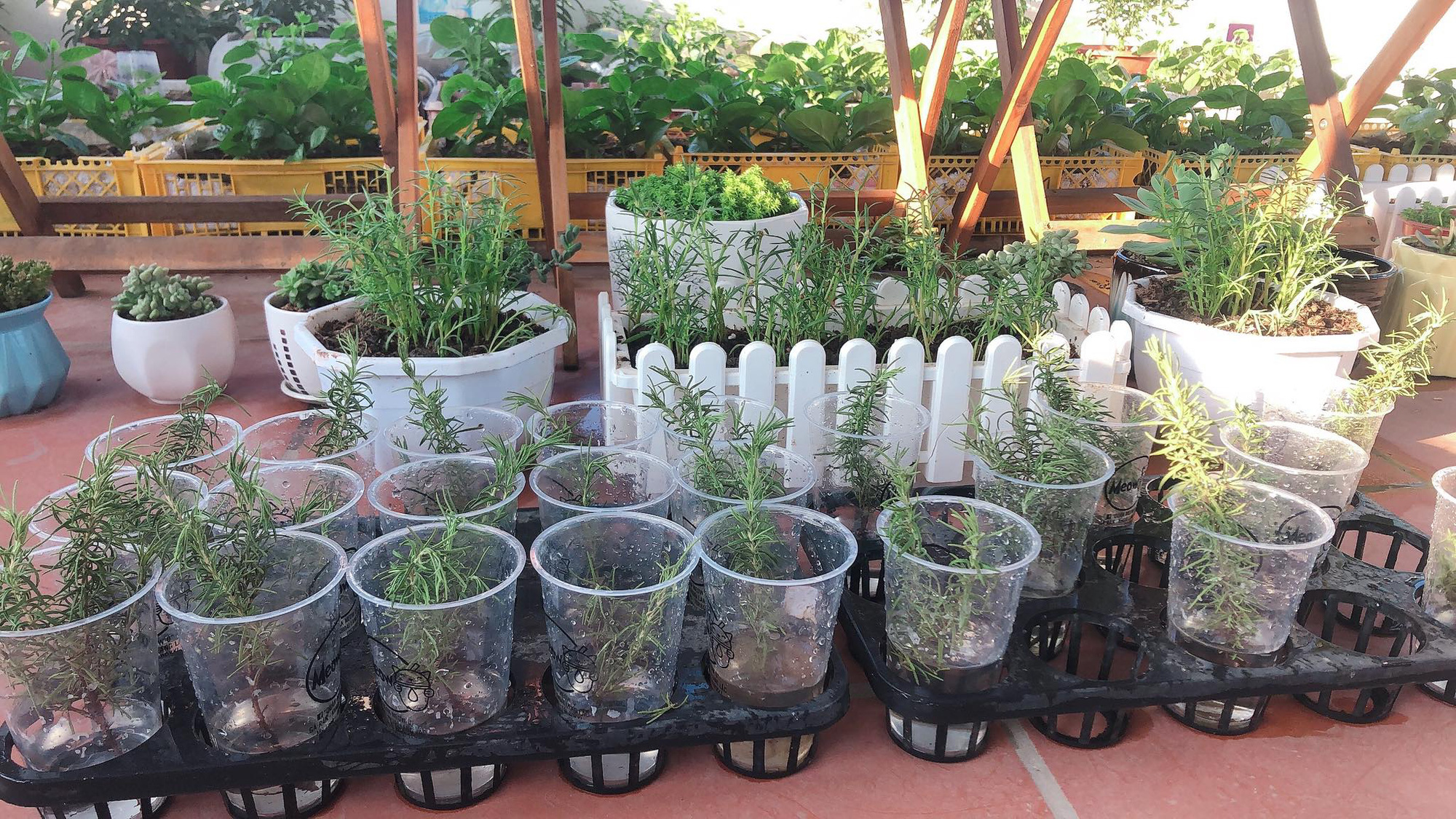 Therefore, when returning to Vietnam, Ms. Nhai wanted to do a small thing to contribute to environmental protection, she began to think of the idea of ​​​​using recycled materials to plant trees, at first she bought plastic baskets of fruit. old to both save money and keep them from having to throw it away.
Or when her house had just finished with many paint cans, she asked her father to punch holes to use to plant trees. Later, Ms. Jasmine opened a milk tea shop, she used milk tea boxes to grow green onions.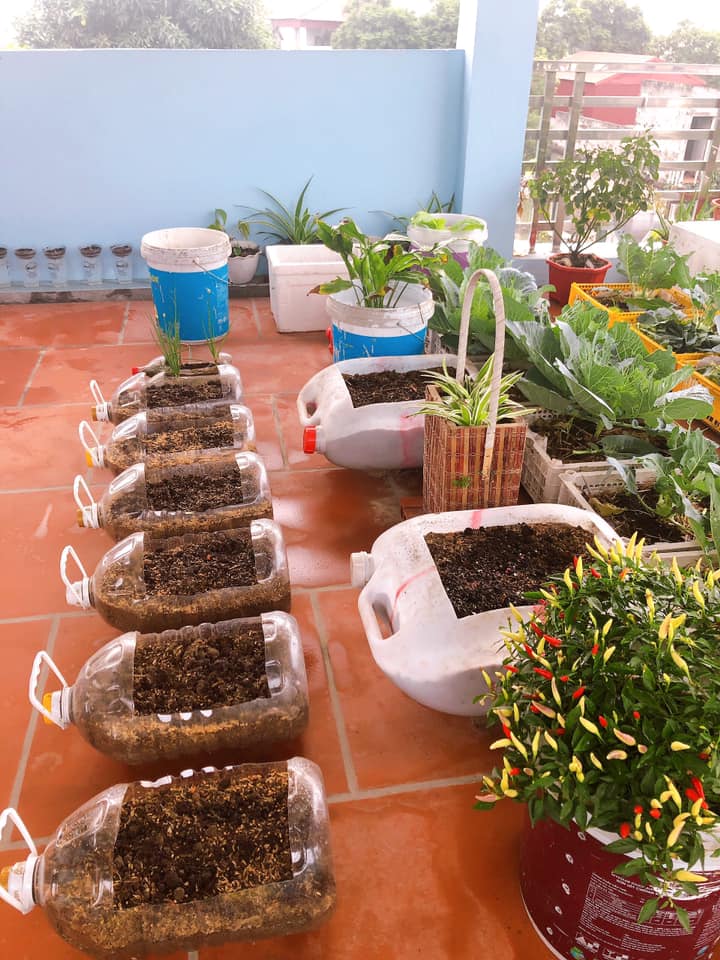 Oil cans, paint cans, and plastic containers are all recycled into vegetable pots.
Now going out on the street, seeing anyone throwing away any bottles or jars, she would like to take advantage of it to plant trees, people often call Ms.
Ms. Jasmine reminded: "Don't rush to throw away the bottles, tires, and plastic containers, but use them to grow vegetables, you will have a clean, green vegetable garden right in your house and save money".
Clean vegetable fertilizer is also from recycled food
Not only using recycled materials to plant trees, Ms. Nhai also uses organic waste to compost and fertilize the plants. With all kinds of coffee grounds, tea grounds, sweet potato skins, potatoes available in the house, she put them all in a styrofoam box, incubated until slightly smelly, then mixed with soil and ash, rice husk.
"This way helps vegetables grow well without affecting the environment," said Ms.
As for pests, when detecting worms, Ms. Jasmine meticulously traced each leaf, scraped each tree stump to catch worms instead of spraying toxic chemicals.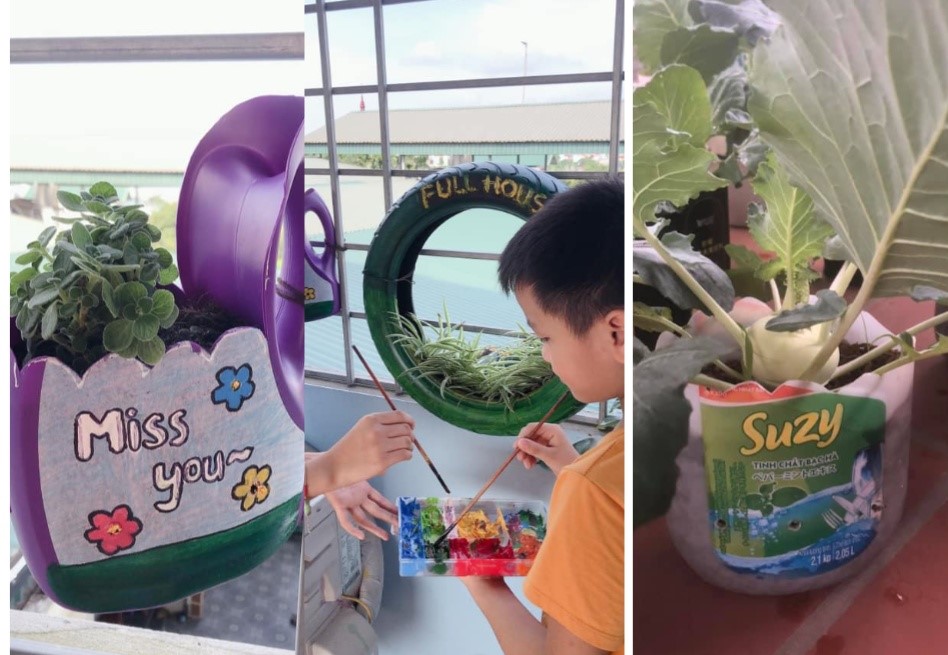 Two children participate in recycling with their mother.
Spread the love of growing clean vegetables and fragrant flowers to your children
Since the day she had a garden, especially during the Covid-19 season, not being able to go out to play much, Ms. Jasmine has helped her two children get close to nature, getting used to vegetables right in the fresh, green space. of her family, the daughter also said that thanks to her mother's planting, she understood and loved biology more.
The passion for using recyclables is also passed on to her two children, when they recycle bottles themselves, paint tires to decorate and plant trees. Through small actions, children will surely know how to protect the environment and love trees more.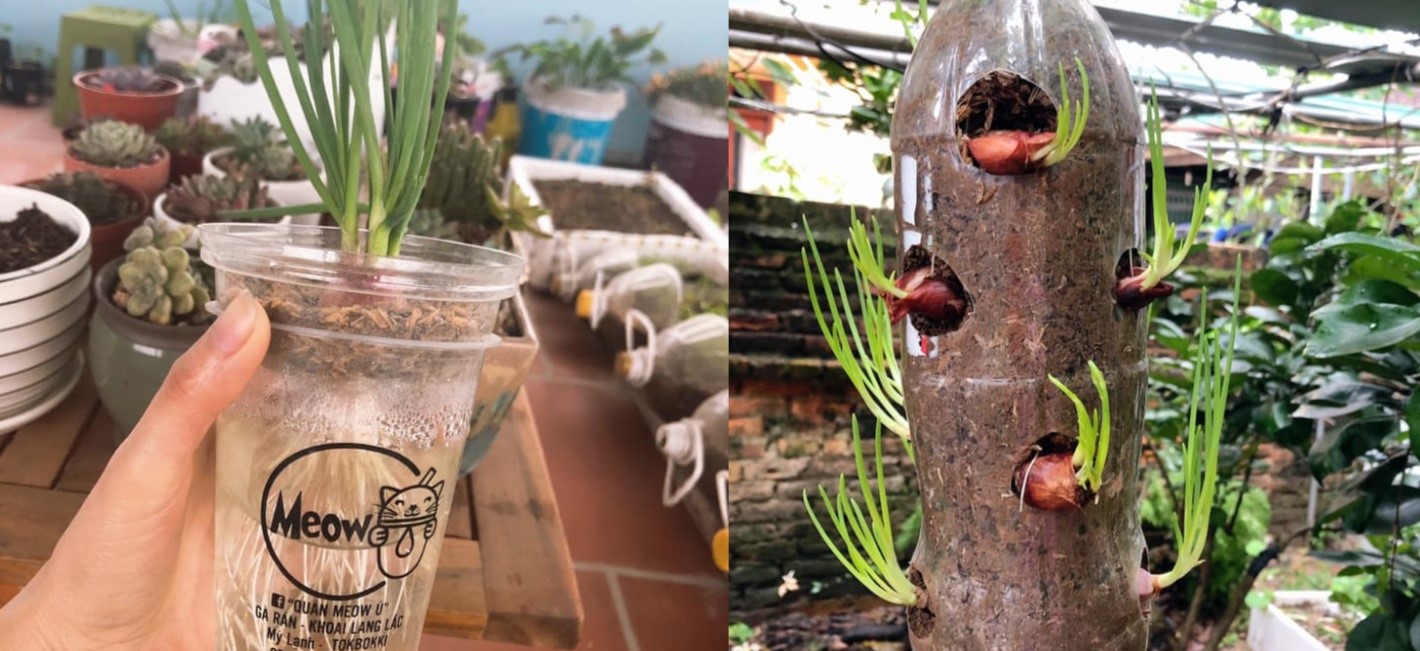 Whether it's a big or small plastic bottle, you just need to cut a part of the plastic shell and pour the soil into it to be able to grow vegetables.
Her small garden is always full of fragrance, bright green with trees and flowers. Loving nature and gardening, she always feels peaceful and free when living in a small house, stepping out into the garden, looking at trees and flowers.
Let's see more pictures of a clean vegetable garden on the terrace made from "bottle" items in Ms. Jasmine's house: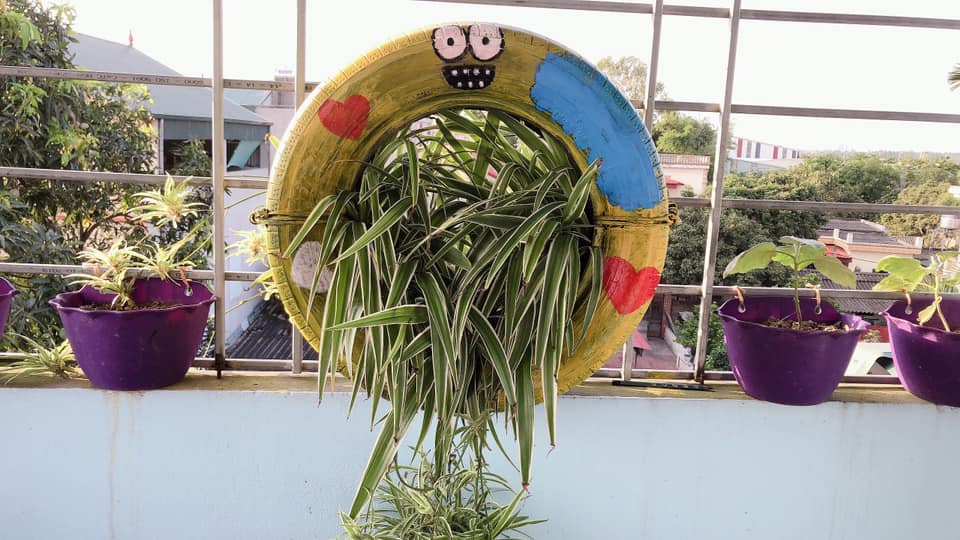 Old tires are discarded, painted by Nhai's children to decorate.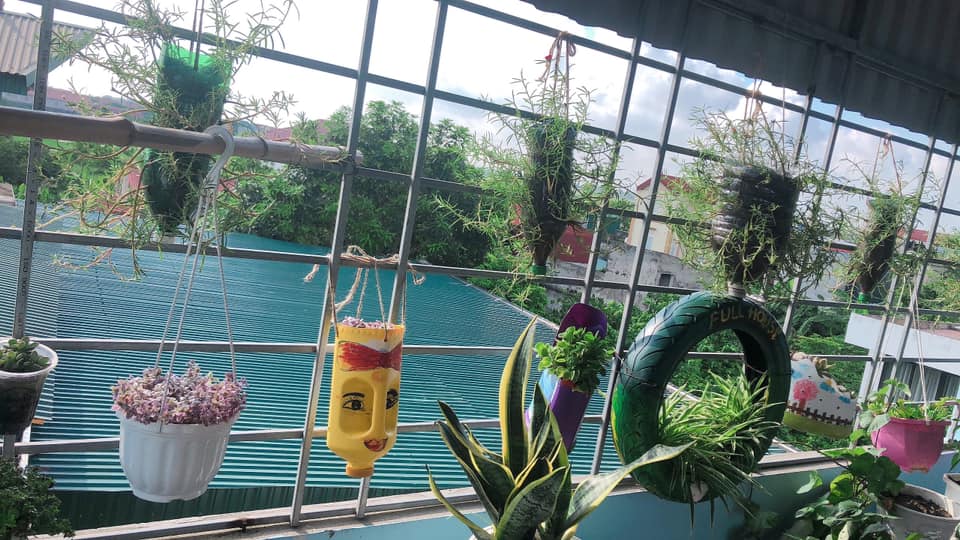 The flower pots hanging on the rooftop railing are recycled by Jasmine's children.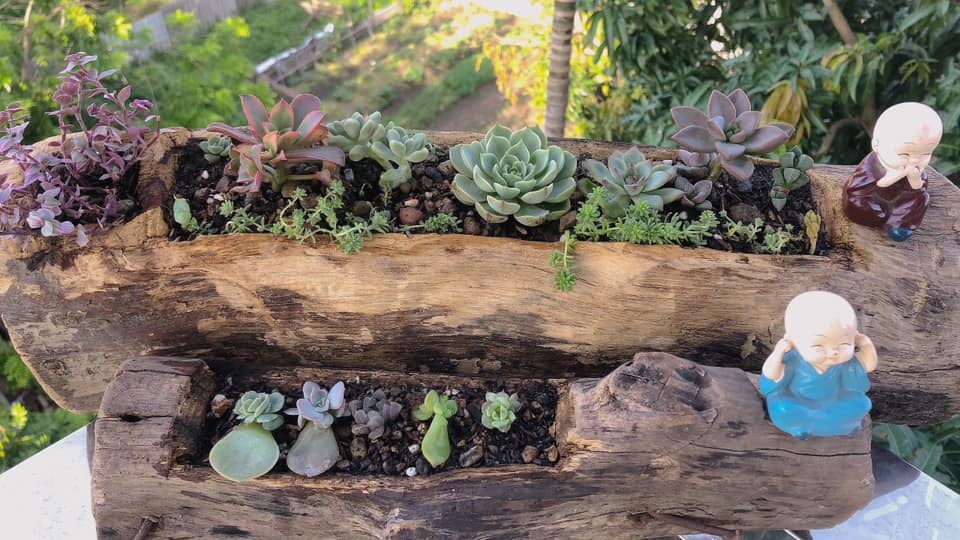 She also cleverly uses the log to plant succulents.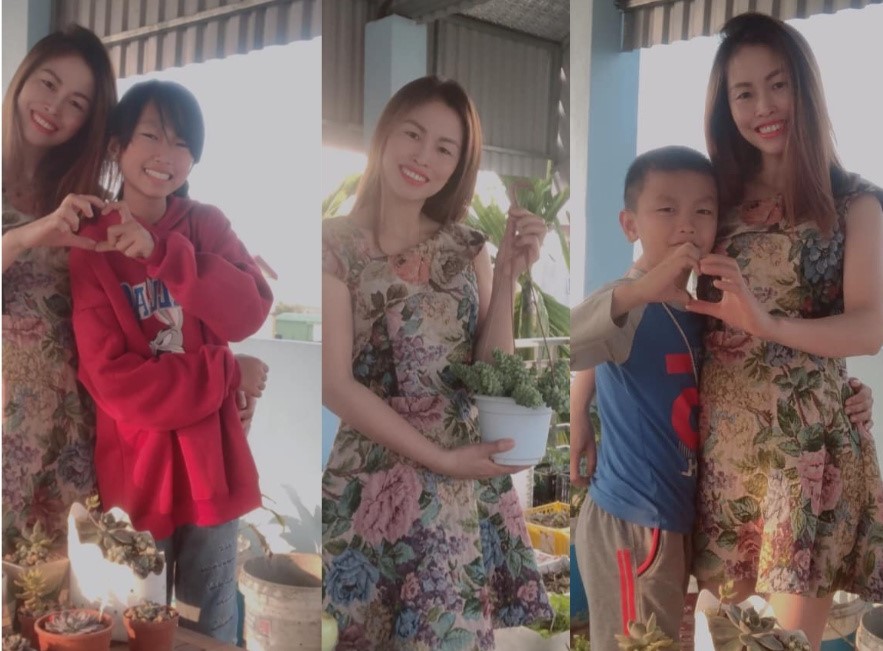 Mother and daughter of Nhai together take care of the garden on the terrace every day.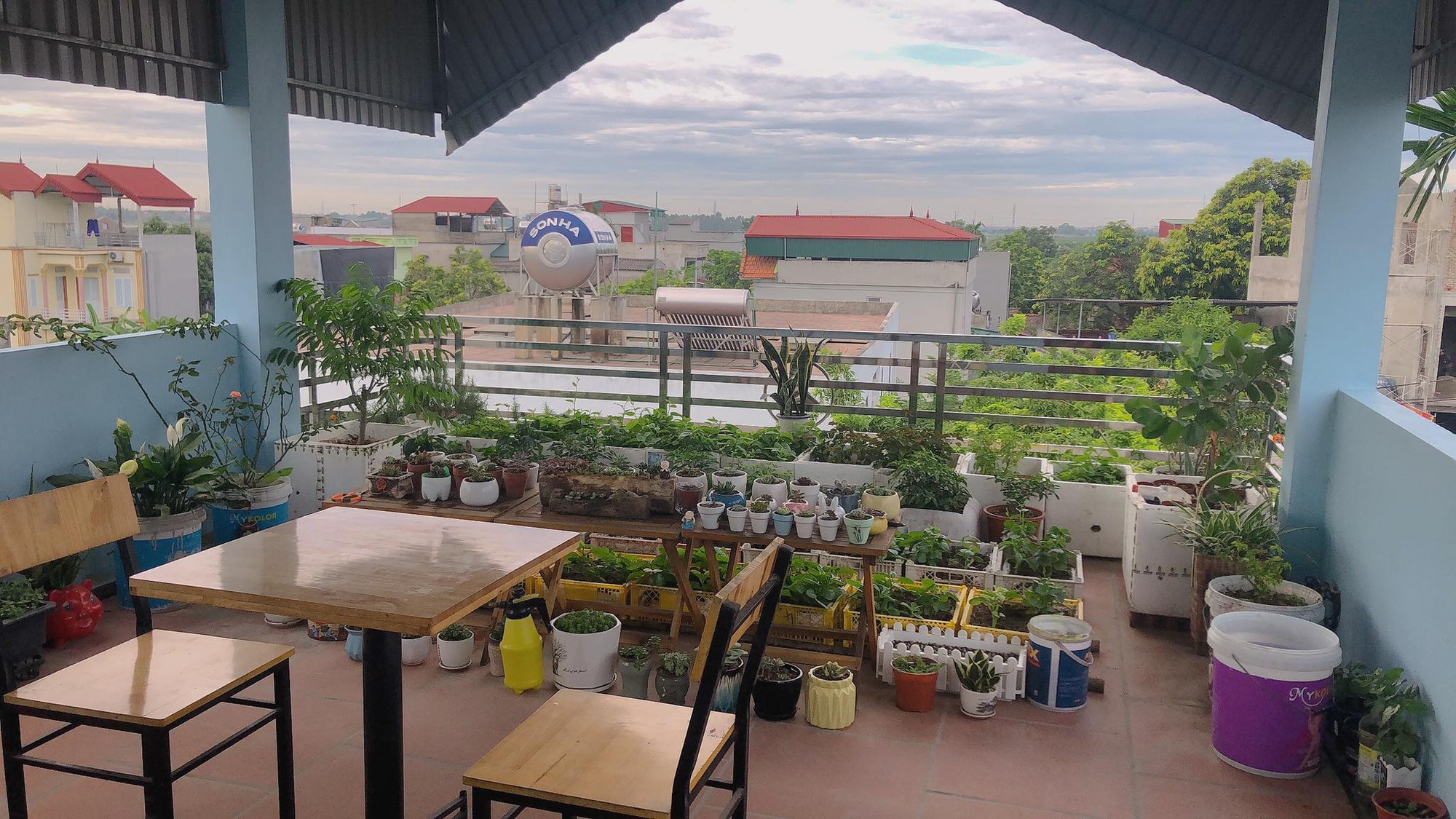 On the terrace, she also put a set of tables and chairs for the whole family to sit and relax while having breakfast while watching the trees.